Lipari. The Greek and Roman necropolis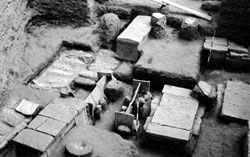 Lipari. Necropolis excavation XXIII, 1985
After the trial dig conducted by Paolo Orsi in 1928, Luigi Bernabò Brea and Madeleine Cavalier systematically conducted, from 1948 to 1995, the exploration of the necropolis laid out in the plain of Diana, extending between the Ponte ravine to the South to that of Santa Lucia to the North. Small groups of tombs were also excavated in the Contrada Sant' Anna and at Portinenti.
The tombs of the necropolis range in date from the very foundation of the Greek city, i.e. from 580 BC, to the Roman imperial period.
They are not uniformly distributed through the Contrada Diana, but gathered in huge agglomerations, separated by unoccupied zones. Probably the burials took place in localized areas especially allocated to this purpose, perhaps the property of confraternities or associations of a funerary character. The land in question was situated outside the city walls, since it was the invariable rule in the Greek and Roman world for burials to take place outside the urban area. This explains the great density and overlaying of burials in several superimposed layers in delimited zones, the maintenance of the same orientation of the tombs, always with the head to the South, and their alignment in more or less regular rows.
Both in the Greek and Roman periods the necropolis presented a mixed funerary rite: in the former case the majority of burials were inhumations and the minority cremations, whereas in the Roman period this proportion was reversed.
Among the many aspects of particular interest, the wealth of the grave goods that accompanied the burials in the 4th century BC is worth emphasizing. The artefacts found in these funerary assemblages include significant examples of locally made pottery and a very large number of theatrical masks (4th – 3rd century BC), which represent the largest complex of this type hitherto found in the Greek world.
Bibliography:
L. Bernabò Brea M. Cavalier, Meligunìs Lipàra II, La necropoli greca e romana nella contrada Diana, Palermo 1965, pp. 1-380.
L. Bernabò Brea M. Cavalier, Meligunìs Lipàra V, Scavi nella necropoli greca di Lipari, Roma,1991, pp. 1-199.
L. Bernabò Brea M. Cavalier, Meligunìs Lipàra VII. Lipari. Contrada Diana.Scavo XXXVI in proprietà Zagami (1975-1984) con contributi di S.L. AGNELLO e F. VILLARD, Palermo 1994, pp. 1-288
L. Bernabò Brea M. Cavalier, F. Villard, Meligunìs Lipàra XI, Gli scavi nella necropoli greca e romana di Lipari nell'area del terreno vescovile Parte I e Parte II, Palermo 2001,pp. 1-818.
L. Bernabò Brea M. Cavalier, L. Campagna, Meligunìs Lipàra XII, Le iscrizioni lapidarie greche e latine delle isole Eolie, Palermo, 2003, pp. 1-275.
L. Bernabò Brea, Menandro e il teatro greco nelle terracotte liparesi, Genova, 1981.
L. Bernabò Brea, Maschere e personaggi del teatro greco nelle terracotte liparesi, Roma 2001.